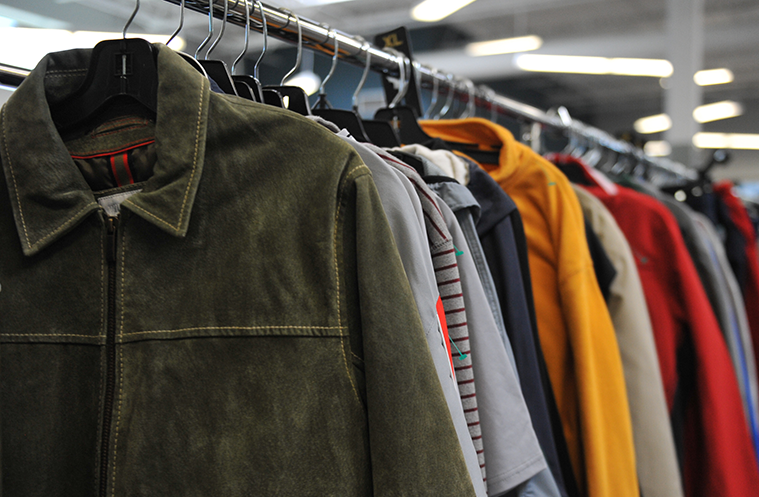 Donate Clothing & Goods
Let's Do Good
For the planet. For our community. For our future.
Goodwill Columbus accepts donations of gently-used clothing, furniture, household items, computers and electronics for resale in our retail stores. Proceeds from your donation are used to provide services to people with developmental disabilities and other barriers here in Columbus. Your donations stay local, and directly help people in this community.
Donations may be made at any of our retail stores or attended donations centers across Franklin County (view map). Revenue generated from the sale of items in our stores is put back into job training and vocational habilitation for individuals of various backgrounds throughout Central Ohio.
But what if you have a torn or soiled shirt that you think Goodwill may not be able to use? Donate it. What about a cookie sheet with burn marks? Donate it. Or just one shoe, but not a pair? Donate it. If an item cannot be used in our retail stores, it will be recycled. Be assured that glass, wood, plastic, ceramic, and decorative items such as figurines, knick-knacks are not thrown away as they have viable recyclable value. Every effort is made to recycle items that are not sold in our stores, so that they do not end up in landfills.
Over 7 million pounds
of waste were diverted from Columbus-area landfills thanks to your donations
Items We Accept
Goodwill can accept a wide variety of donations, including:
Clothing (Men's, Women's, Children's)
Coats / Jackets / Gloves / Hats
Professional / Formal Attire
Shoes (All Sizes & Conditions)
Linens / Bedding / Towels
Blankets / Sheets /Decorative Pillows
Books
Jewelry
Small Appliances & Clocks
Toys / Board Games
Bicycles / Skateboards
Sporting Equipment
Musical Instruments
Some Furniture
Goodwill can accept a wide variety of donations, including:
We have compiled a Valuation Guide for Goodwill donors to help you assign value to your donated goods for your tax returns. Please check with your accountant on the details of how to claim donated items on your taxes.